Ramesh Patil
From Rutgers Medical Informatics History Project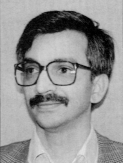 ‎
Name: Ramesh Patil

Elected ACMI Fellow: 1987

Birthdate:

Degrees: PhD, MIT, 1981

Current Position: Chief Technology Officer, Digite Inc.

Current email:

Professional Affiliations:
Professional Activities: Editor-in-Chief of AI Magazine from 1991-96
Honors and Awards: Fellow, AAAI, 1993; AAMSI Young Inv. Award in Medical Knowledge Systems, 1986
Other Works:
Other Information:
Curriculum Vitae:

Selected Publications:

Language restrictions, taxonomic classification, and the utility of representation services 
Jon Doyle and Ramesh Patil  MIT/LCS/TM-387 (1989). 

Two dogmas of knowledge representation: language restrictions, taxonomic classification, and the utility of representation services 
Jon Doyle and Ramesh Patil MIT/LCS/TM-387b (1989).

Shoemaker WC, Wo CCJ, Bishop MH, Appel PL, Patil RS. Invasive and noninvasive physiologic monitoring of patients with septic shock on admission to the emergency department. In Journal of American Medical Association.

Wo CCJ, Shoemaker WC, Bishop MH, Patil RS. Physiology and therapy of traumatic shock with reference to patients with gunshot wounds and blunt trauma. In Journal of Military Medicine.

Patil RS, Shoemaker WC, Appel PL. Use of artificial intelligence to customize clinical algorithms for high risk post operative patients. Annual Symposium of the Society of Critical Care Medicine, June 1993.

Patil RS, Fikes R, Patel-Schneider PF, Mckay D, Finin T, Gruber T, Neches R. The DARPA Knowledge Sharing Effort: Progress report. In Proceedings of the Third International Conference on the Principles of Knowledge Representation and Reasoning, Cambridge, MA, 1992.

Shoemaker WC, Patil RS, Appel PL, Kram HB. Hemodynamic and oxygen transport values for outcome prediction, therapeutic goals, and clinical algorithms: Application of artificial Intelligence to improve patient care. Chest, 1992.

Neches R, Fikes R, Finin T, Gruber T, Patil RS, Senator T, Swartout WR. Enabling Technology for Knowledge Sharing AI Magazine, 12, 36-56, 1991.
Doyle J, Patil RS. Two theses of knowledge representation: language restrictions, taxonomic classifications, and the utility of representation services. Artificial Intelligence, 1991, 48, 261-297

Greenwald SD, Patil RS, Mark RG. Improved Detection and Classification of Arrhythmias in Noise-Corrupted Electrocardiograms Using Contextual Information with an Expert System. Biomedical Instrumentation and Technology, 1990.

Senyk O, Patil RS, Sonnenberg FA. Systematic knowledge base design for medical diagnosis. Applied Artificial Intelligence, Vol3:2-3, pp: 249-274, 1989.

Miller RA, Patil RS, Mitchell J, Friedman R, Stead WW, Blois MS, Anderson R, Bowden V. General Principles for Preparing a Medical Informatics Research Grant. Computers and Biomedical Research, 1989, vol:22, pp: 92-101.

Patil RS. Artificial intelligence techniques for diagnostic reasoning in medicine. Exploring Artificial Intelligence, ed. Shrobe, H. E., Morgan Kauffman, pp 347-379, 1988.

Greenwald SD, Patil RS, Mark RG. Improved Arrhythmia Detection in Noisy ECGs Through the Use of Expert Systems. Computers in Cardiology, 1988.

Szolovits P, Patil RS, Schwartz WB. Artificial Intelligence in Medical Diagnosis. Annals of Internal Medicine, 1988, 108, 80-87.

Patil RS. Causal Reasoning in Computer Programs for Medical Diagnosis. Methods and Programs in Biomedicine, Elsevier Science Publishers, vol: 25, pp 117-124, 1987.

Schwartz WB, Patil RS, Szolovits P. Artificial Intelligence in Medicine: Where do we stand? New England Journal of Medicine, Vol: 316, pp 685--688, 1987.

Grimson WE, Patil RS (eds.) Artificial Intelligence in the 80's and beyond: An MIT Survey The MIT Press, Cambridge, MA., 1987.


Preparing a medical informatics research grant proposal: general principles
Authors:	Randolph A. Miller, Ramesh Patil, Joyce A. Mitchell, Charles Friedman, William W. Stead	
Published in:  Journal Computers and Biomedical Research archive Volume 22 Issue 1, February 1989 

Effects of an integrated yoga programme on chemotherapy-induced nausea and emesis in breast cancer patients.
Raghavendra RM, Nagarathna R, Nagendra HR, Gopinath KS, Srinath BS, Ravi BD, Patil S, Ramesh BS, Nalini R.
Eur J Cancer Care (Engl). 2007 Nov;16(6):462-74.

Books

Main title:	 AI in the 1980s and beyond : an MIT survey / edited by W. Eric L. Grimson and Ramesh S. Patil.
Published/Created:	 Cambridge, Mass. : MIT Press, c1987.
ISBN:	 0262071061

Additional Media:


Sources:
Digite biography
ISI web page (1995)