Phillip Manning
From Rutgers Medical Informatics History Project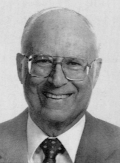 ‎
Name: Phillip Manning

Elected ACMI Fellow: 1985

Birthdate:

Degrees:

Current Position:

Current email:

Professional Affiliations:
Professional Activities:
Honors and Awards:
Other Works:
Other Information:
Curriculum Vitae:

Selected Publications:

Manning P, McNeil CJ. Electrochemical and optical sensing of reactive oxygen
species: pathway to an integrated intracellular and extracellular measurement
platform. Biochem Soc Trans. 2011 Oct;39(5):1288-92. Review.                                                    

Boulton S, Anderson A, Swalwell H, Henderson JR, Manning P, Birch-Machin MA.
Implications of using the fluorescent probes, dihydrorhodamine 123 and
2',7'-dichlorodihydrofluorescein diacetate, for the detection of UVA-induced
reactive oxygen species. Free Radic Res. 2011 Feb;45(2):139-46.                                                 

Henderson JR, Swalwell H, Boulton S, Manning P, McNeil CJ, Birch-Machin MA.
Direct, real-time monitoring of superoxide generation in isolated mitochondria.
Free Radic Res. 2009 Sep;43(9):796-802.                                                                         

Henderson JR, Fulton DA, McNeil CJ, Manning P. The development and in vitro
characterisation of an intracellular nanosensor responsive to reactive oxygen
species. Biosens Bioelectron. 2009 Aug 15;24(12):3608-14.                                                       

Manning P, Ray GB. Setting the agenda: an analysis of negotiation strategies
in clinical talk. Health Commun. 2002;14(4):451-73.                                                             

Cookson MR, Menzies FM, Manning P, Eggett CJ, Figlewicz DA, McNeil CJ, Shaw
PJ. Cu/Zn superoxide dismutase (SOD1) mutations associated with familial
amyotrophic lateral sclerosis (ALS) affect cellular free radical release in the
presence of oxidative stress. Amyotroph Lateral Scler Other Motor Neuron Disord.
2002 Jun;3(2):75-85.                                                                                            

McNeil CJ, Manning P. Sensor-based measurements of the role and interactions
of free radicals in cellular systems. J Biotechnol. 2002 Feb;82(4):443-55.

Books

Personal name:     Manning, Philip.
Main title:        Erving Goffman and modern sociology / Philip Manning.
Published/Created: Stanford, Calif. : Stanford University Press, 1992.
ISBN:              0804720258 (alk. paper)

Personal name:     Manning, Philip.
Main title:        Erving Goffman and modern sociology / Philip Manning.
Published/Created: Cambridge, UK : Polity Press, 1992.
ISBN:              0745608531 (pbk. : acid-free paper)


Personal name:     Manning, Philip.
Main title:        Freud and American sociology / Philip Manning.
Published/Created: Cambridge, UK ; Malden, MA : Polity, 2005.                                                   
ISBN:              0745625045 (hbk.)

Additional Media:


Sources: