Carol Newton
From Rutgers Medical Informatics History Project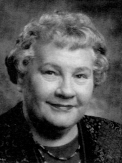 ‎
Name: Carol S. Newton

Elected ACMI Fellow: 1985

Birthdate:

Degrees:

Current Position:

Current email:

Professional Affiliations:
Professional Activities:
Honors and Awards:
Other Works:
Other Information:
Curriculum Vitae:

Selected Publications:

Theis JF, Irene C, Dershowitz A, Brost RL, Tobin ML, di Sanzo FM, Wang JY,
Boone C, Newlon CS. The DNA damage response pathway contributes to the stability
of chromosome III derivatives lacking efficient replicators. PLoS Genet. 2010 Dec
2;6(12):e1001227.                                                                                                                        

Newlon CS. Elizabeth W. Jones, 8 March 1939-11 June 2008. Yeast. 2009
May;26(5):299-302.                                                                                                                       

Chang F, Theis JF, Miller J, Nieduszynski CA, Newlon CS, Weinreich M. Analysis
of chromosome III replicators reveals an unusual structure for the ARS318
silencer origin and a conserved WTW sequence within the origin recognition
complex binding site. Mol Cell Biol. 2008 Aug;28(16):5071-81. Epub 2008 Jun 23.                                                          
PubMed PMID: 18573888; PubMed Central PMCID: PMC2519699.                                                                                 
4: Caldwell JM, Chen Y, Schollaert KL, Theis JF, Babcock GF, Newlon CS, Sanchez
Y. Orchestration of the S-phase and DNA damage checkpoint pathways by replication
forks from early origins. J Cell Biol. 2008 Mar 24;180(6):1073-86. Epub 2008 Mar                                                         
17.

Theis JF, Dershowitz A, Irene C, Maciariello C, Tobin ML, Liberi G,
Tabrizifard S, Korus M, Fabiani L, Newlon CS. Identification of mutations that
decrease the stability of a fragment of Saccharomyces cerevisiae chromosome III
lacking efficient replicators. Genetics. 2007 Nov;177(3):1445-58. Epub 2007 Aug                                                          
24.

Dershowitz A, Snyder M, Sbia M, Skurnick JH, Ong LY, Newlon CS. Linear
derivatives of Saccharomyces cerevisiae chromosome III can be maintained in the
absence of autonomously replicating sequence elements. Mol Cell Biol. 2007
Jul;27(13):4652-63. Epub 2007 Apr 23.                                                                                                    

Lu B, Yadav S, Shah PG, Liu T, Tian B, Pukszta S, Villaluna N, Kutejová E,
Newlon CS, Santos JH, Suzuki CK. Roles for the human ATP-dependent Lon protease
in mitochondrial DNA maintenance. J Biol Chem. 2007 Jun 15;282(24):17363-74. Epub                                                        
2007 Apr 9.

Irene C, Maciariello C, Micheli G, Theis JF, Newlon CS, Fabiani L. DNA
elements modulating the KARS12 chromosomal replicator in Kluyveromyces lactis.
Mol Genet Genomics. 2007 Mar;277(3):287-99. Epub 2006 Nov 29.                                                                            

Irene C, Maciariello C, Cioci F, Camilloni G, Newlon CS, Fabiani L.
Identification of the sequences required for chromosomal replicator function in
Kluyveromyces lactis. Mol Microbiol. 2004 Mar;51(5):1413-23.                                                                             

avlov YI, Newlon CS, Kunkel TA. Yeast origins establish a strand bias for
replicational mutagenesis. Mol Cell. 2002 Jul;10(1):207-13.                                                                              

Newlon CS, Theis JF. DNA replication joins the revolution: whole-genome views
of DNA replication in budding yeast. Bioessays. 2002 Apr;24(4):300-4. Review.

Books
Additional Media:


Sources: